#1 A Squiggly Lamp and Still Lifes.
I hope this email finds you hydrated.
First, I want to say thank you so so SO much for subscribing. Seriously, it means the world to me. This is something I've wanted to do for a while, but could never find the right medium/procrastinated/doubted I could actually pull it off etc. etc. etc.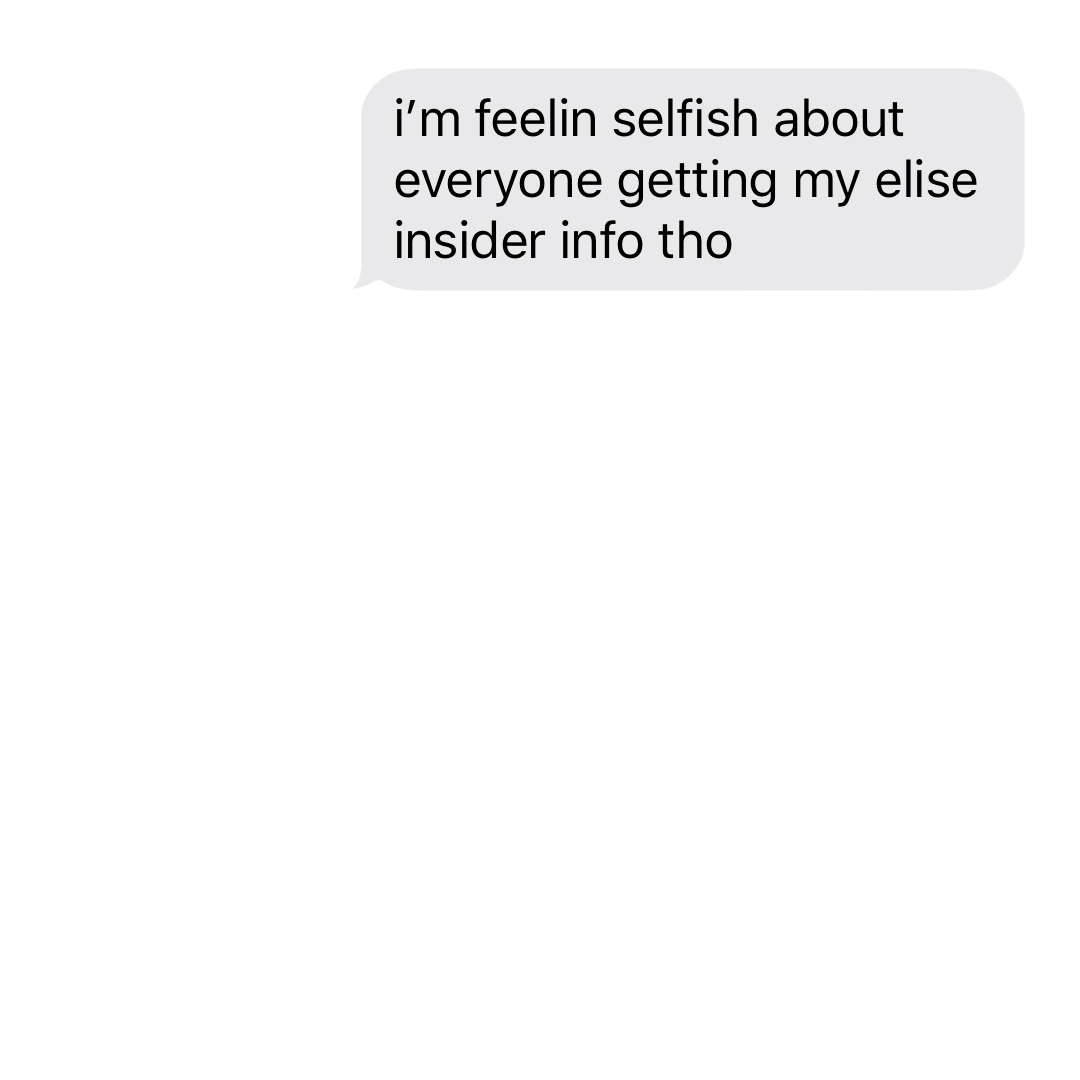 The other day a friend said to me "You give off the vibe that you know where to find stuff."
Initially, the purpose of this newsletter was in response to that quote and all of those REAL TEXTS (thank you Kevn Scannell / Loose Change Animation for the gif!) I've received over the years. But I thought about it, and I actually don't want this to only be a "shopping newsletter." On my computer, I have a window open of work-related tabs and a window open that I call my "fun tabs." The "fun tabs" window truly surpasses double digits, hence the title twenty three tabs (and idk, I turned 23 this year, and it's almost an alliteration?). My "fun tabs" consist of anything from a pair of shoes to an interesting article. This newsletter serves as a weekly roundup of those various links.
The format of this newsletter might change as I get a feel for how this works, so bear with me. If you have any feedback (very appreciated) or if I forget a comma or something (lol) please email me at eliseabang@gmail.com!
Also, add elisebang@substack.com to your address list or "star" this email so it doesn't get lost in spam or whatever.
---
Sorry to your wallet.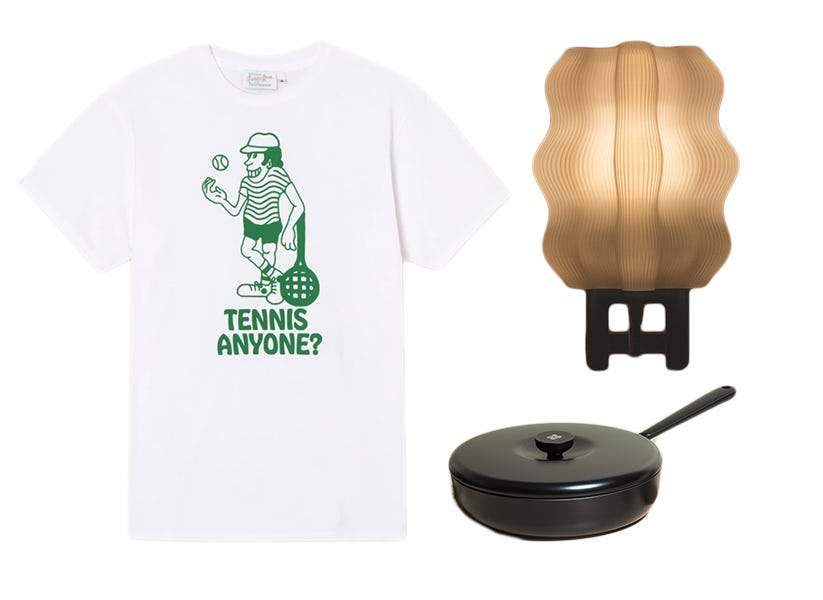 These items are so special that they've traveled from my tabs to my bookmarks!
Since everyone is playing tennis in quar, here's a fun t-shirt from this design studio now available at Rowing Blazers. Since everyone is redecorating in quar, here is this incredibly adorable and affordable squiggly lamp (it comes in different colors). And finally, for those who have become gourmet chefs in quar: this suuuuper non-stick pan that's perfect for sensitive smoke detectors.
---
To read during your lunch break (or second dinner break).
New Money explains how payment became a form of social media
The Verge
Am I the only one who loves stalking Venmo transactions? If your Venmo app glitches or if you lose your debit card, it's like you don't have the money at all. Lana Swartz, an assistant professor of media studies at the University of Virginia, is interviewed about her new book that explores the history of money technologies alongside communication and social media.
Text This Number in the US to Find Out Which Native Land You're Living On Hyperallergic
Yeah, yeah okay. Sorry I'm plugging my employer.
"The United States seized more than 1.5 billion acres from Indigenous people between 1776 and 1887, but today, most of that land is held in trust by the government, severely restricting the rights of Native American people. Recognizing the original inhabitants of the spaces we occupy through awareness-building and land acknowledgment practices is only a first step toward equity, but it is an important one."
Sweat Pants Forever: How the Fashion Industry Collapsed
The New York Times
Clothing sales fell 79% and sweatpants sales were up 80%, but that's not quite the focus of this article. The fashion industry has created "a system that is unrealistic and a strain for even the largest of brands," and Covid-19 was the nail in the coffin for an already struggling industry. Scott Sternberg, formerly of Band of Outsiders (popularized the skinny tie lol) and currently of Entireworld (a.k.a. purveyor of my favorite fucking sweatpants), is used as a kind of a case study in this article.
What happens when a stan account loses its idol
i-D
For those of you who don't know what "stan" means (ok boomer) it's in the dictionary now. My Tumblr at one point was a Vampire Weekend/The Strokes stan account (we won't get into that), and it allowed me to meet so many people on the Internet with the same obsession. To this day, I still follow some of those people on Instagram. The most random connection is this one British dude who lives in New Zealand and like plays drums in a band??? I wonder if he remembers how he knows me or even notices that he still follows me.
"So when you spend your spare time–or often all of your time–chronicling the life of your favourite artist, what happens when that person passes away? For those who run update or stan accounts, this is a reality some have sadly had to face."
---
Been bopping around to this.
---
Open your purse!
In reference to this cultural phenom. Every month I'm going to pick an organization for us to donate to together. Venmo me at @elisebang (email me if you prefer a different method) and at the end of every month, I'll match up to $50.
This month I'm choosing Brave Space Alliance. They're the first Black-led, Trans-led LGBTQ Center working on the South Side of Chicago. Right now, they're the only LGBTQIA+ -ran food pantry in the Midwest! If you're local to Chicago, they're always taking supply donations, and they do a great job of creating culturally affirming donation lists. Learn more about Brave Space Alliance here.
Let's see how much we can raise by the end of September! ❤️
---
This Tweet made me laugh.
---
I make this recipe, like every week.
Caramelized Shallot Pasta made famous by Alison Roman. Yes the anchovies are ESSENTIAL, but I personally cut the amount the recipe calls for in half. I already know half of you are like ewwww anchovies, I'm skipping that step. No. NO. Grow up. It's like one of those things where if you include them, you won't taste them, but if you leave them out, you'll notice something's missing.
---
Speaking of food…Artist of the Week: Zena Kay
Zena Kay is an illustrator and foodie based in Nottingham, UK. I found her through a feature in It's Nice That. I was obsessed with her work and found her Instagram, on which I commented: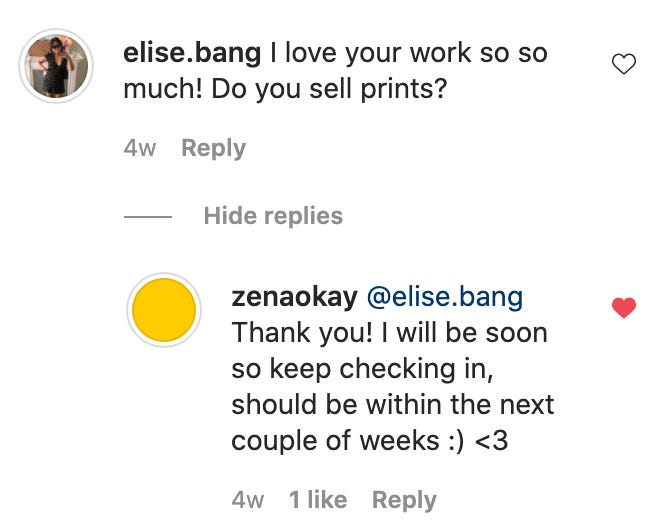 A couple weeks later, her shop went live. You might have seen the print I purchased on my Instagram story: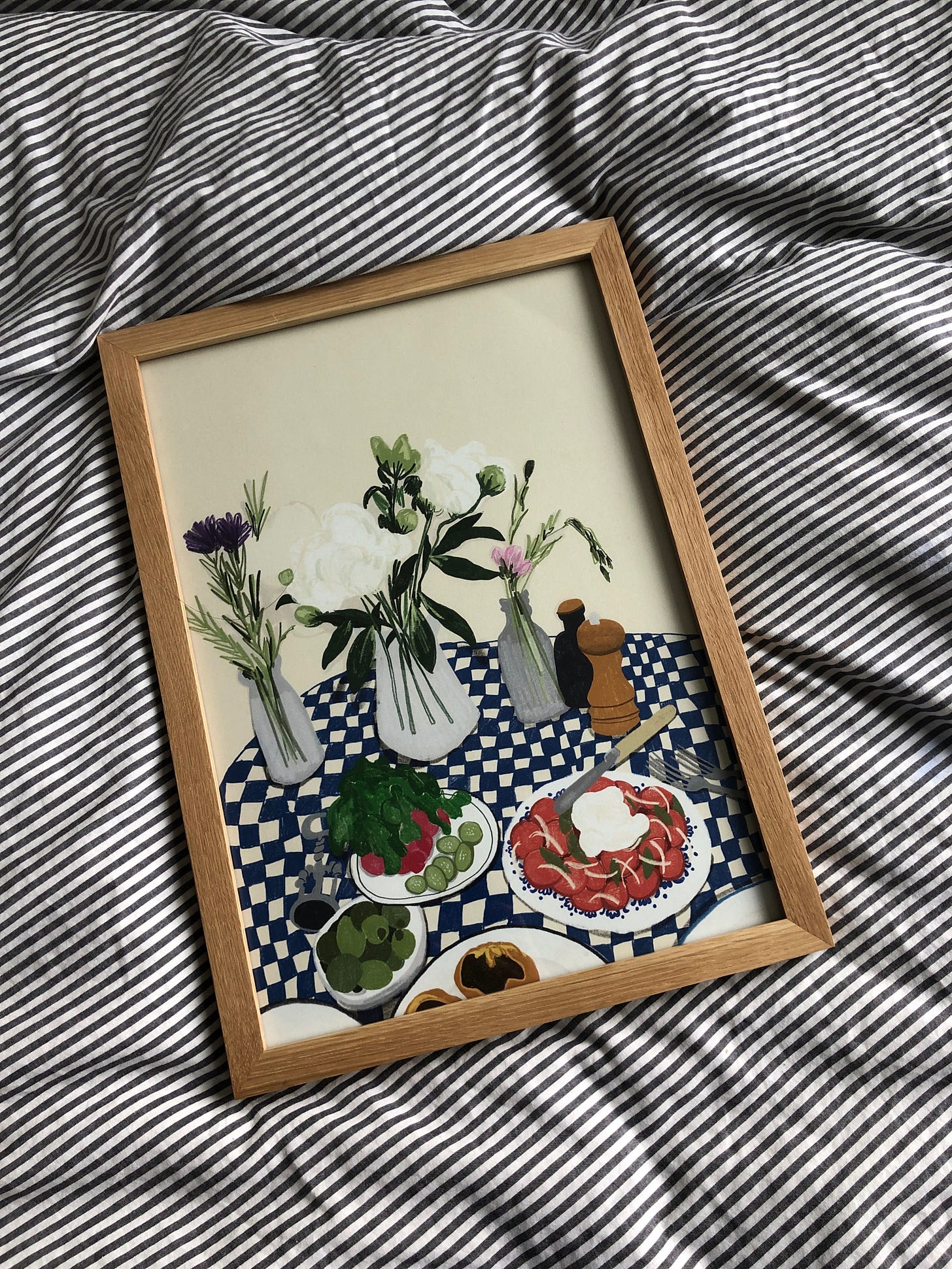 Ugh, isn't it perfect! I love finding and sharing new art and have been so lucky to work in that world for the past few years (Hyperallergic, Colossal, and a deep cut if you remember me from Shredded Mag days). This all happened while I was finalizing plans to start this newsletter. I thought instead of just featuring Zena's shop, I should learn more about her. That really was my favorite part about Shredded Mag; not just finding new art, but getting to know the artist (and meeting new people). I'll stop rambling and get to the questions.
✨
Could you tell me a bit about yourself? Where you're based, where you studied, how you got into art, etc.
"Hello! Yeah so I'm Zena, and I am a freelance illustrator based in Nottingham, UK. I love it. It is such a fun, diverse, and creative city to get anyone's juices flowing. I studied at Kingston School of Art (in Kingston upon Thames, UK) with an added Erasmus year at ESAD (Escola Superior de Artes e Design) in Porto, Portugal. I kind of just naturally fell into drawing. My passion, however, always fell into food and the beauty of how food can bring people together. Living in a very creative household, my brother is cofounder of the print shop Dizzy Ink, meant that I was always surrounded by paintings, antiques, etc., and it helped pushed me to become an illustrator. Towards the end of university, I wanted to find a way to collaborate food into my drawings, and I did just that. I draw lots of recipes and for food blogs!"

What is your process for creating your illustrations?
"I love to mix up my process, but recently I was gifted an iPad. I love the fact that you can draw something so beautifully right at the tip of your finger anywhere–train, bus, studio, etc. without carrying loads of supplies. But I naturally am always drawn to paintings."
Do you have any inspirations/motivations for your work?
"I am very much inspired by 1920s/30s old cookbook illustrations, just with way more colour! I love the simplicity they capture of such a crucial time within cooking (if that makes sense, haha). I am also very much inspired by traditional painters like Freud, Van Gogh, Matisse, etc. and love to walk around galleries–which at the minute is not applicable, but oh well one day! And of course I am also very much inspired by my surroundings and friends!"
Could you tell me a little about Still Here and Shared Plates?
"Still Here was set up by myself and a very good friend and amazing illustrator Tess Smith Roberts. We set it up a couple weeks into lockdown, as we were finding it hard to feel creative, so we decided to start drawing pieces around each other's homes. We soon realised how much we enjoyed the process and decided to share it with the world! We are still in shock with the amazing responses and lovely feedback from everyone. We can't wait to see where it goes.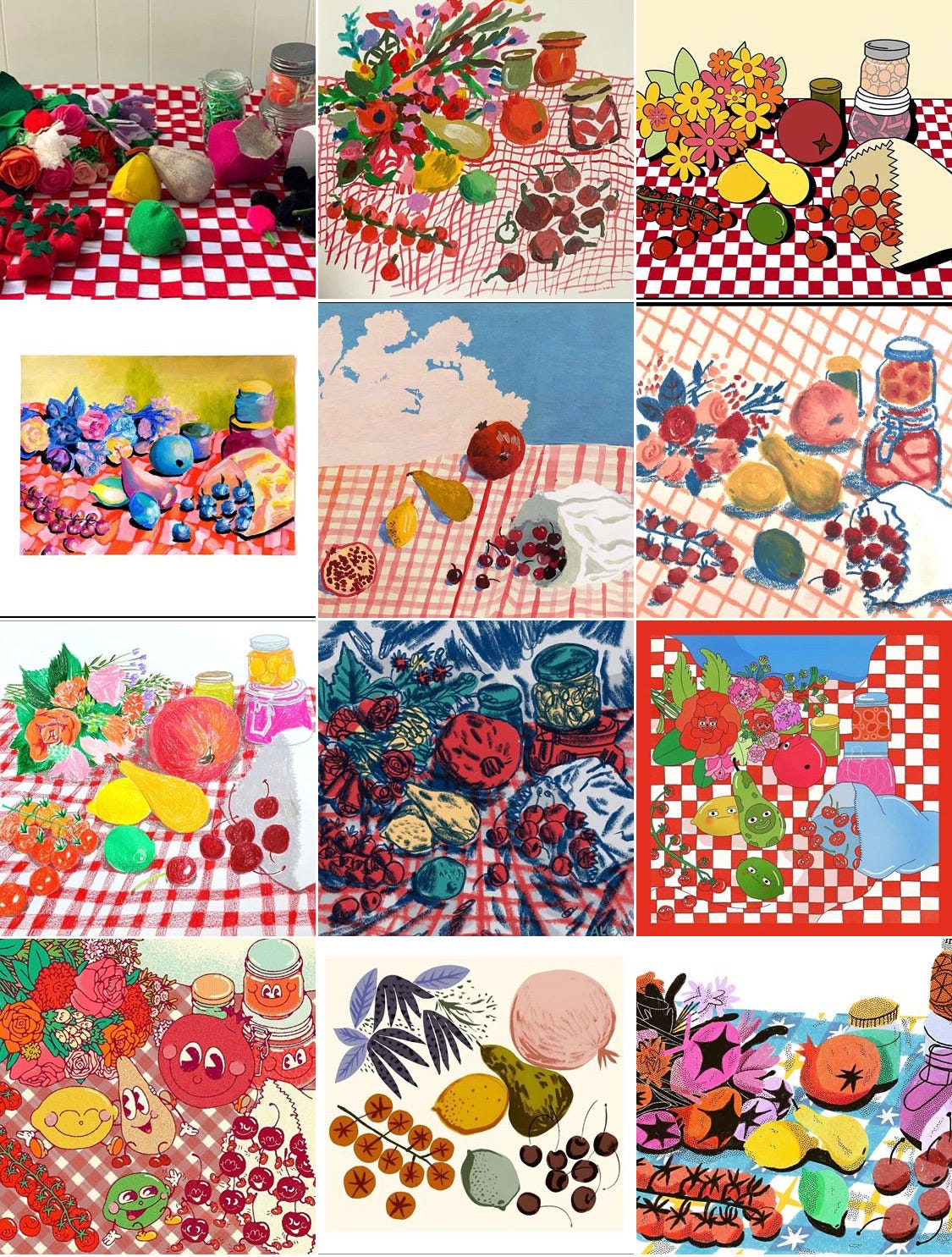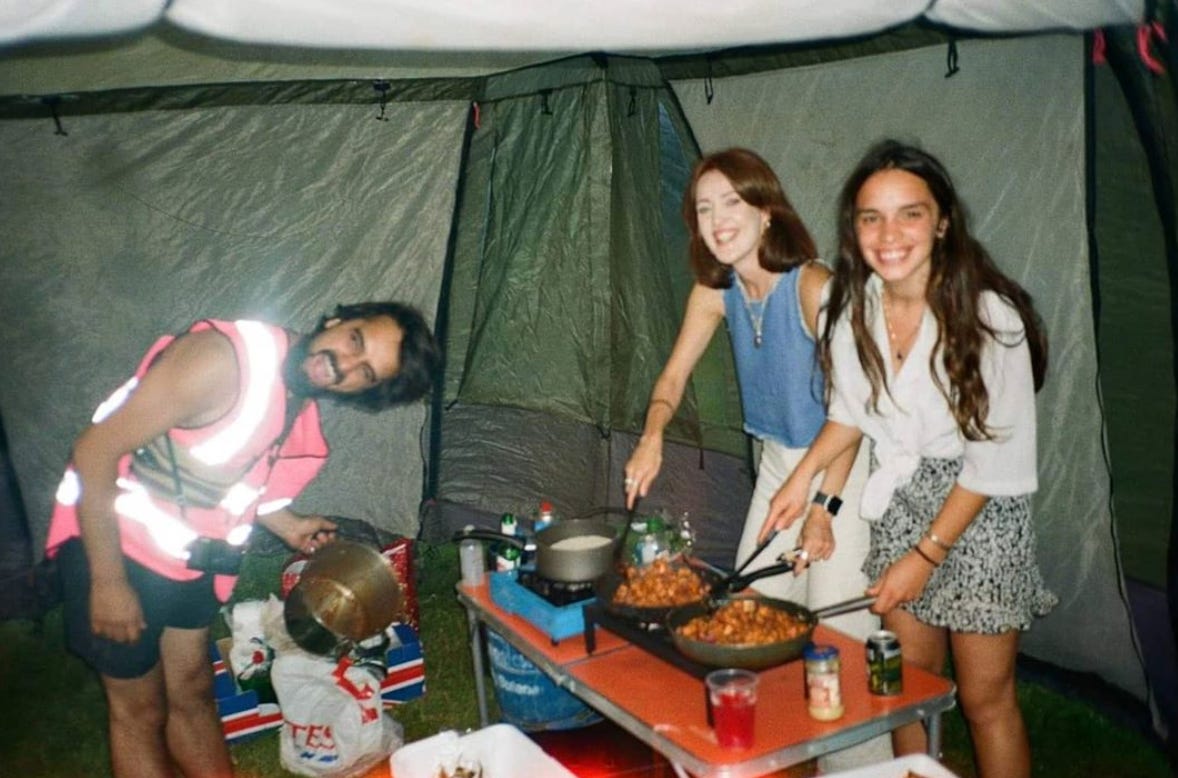 Shared Plates–again another collaboration between me, my brother, and Sophie (brother's partner). This kind of started because we were cooking a hell of a lot of Indian food each week, testing out new recipes, and buying lots of cookbooks. We realised damn, this is pretty good and tasty actually, so then started to cook meals for people in the studio on Friday nights and decided to set up a supper club. However, we really wanted it to be an event that can give back to someone else, So with every meal or place bought at the table, a meal is given to Emmanuel House homeless shelter based in Nottingham. Sadly because of Covid, our first supper club event got postponed but we are hoping to start again in September–fingers crossed!"
Since you're a foodie, what's been your go-to dish lately?
"Oooo, tough question! My go to dish probably sounds really unexciting, but it is always pasta! I mean you can have it at all times of life, when you feel down, and I make a delicious spaghetti and slow roasted tomato sauce. There truly is not a better comfort! It's like a hug in a bowl!"
Any goals, wishes, hopes, and dreams? :)
"Hahaha, I love this question! Goals right now is just to have fun with my drawing, not to compare, and keep loving what I am doing. But I would love to and am looking at moving my designs onto more homeware, preferably kitchen related. I am looking at starting a ceramics course in September (or when they are open again) to makes plates, bowls etc.–hopefully to eat delicious bowls of pasta out of. I would also LOVE to illustrate a cookbook, so hopefully one day. But yeah, right now just to keep loving my work and what I am doing!"
✨
You can follow Zena on Instagram at @zenaokay, browse her shop at zenaokay.com, participate in her weekly still life drawing challenge at @stillherestilllife on Instagram, and drool over her supper club @sharedplates.together on Instagram. Maybe when it's safe to travel, we can all hop on a plane and experience it in person!
---
I can't believe you got this far…
How did I do? Please, if you have any feedback/comments (or have an item-to-purchase request), email me at eliseabang@gmail.com! Thanks so much for reading all of this. I had a lot of fun making it. Since this is my first newsie, I'm going to do something fun to show my appreciation. The first 5 people to email me 1 comment + their mailing address will get a surprise from me in the mail :) Send it to my personal email, eliseabang@gmail.com. Weeeeee talk to you next week! (ノ◕ヮ◕)ノ*:・゚✧