#5 Soccer Mommy and Skipping Classes.
I hope this email finds you hydrated.
Wow!!! I can't believe I've been doing this for a whole month. Everyone has been so kind and supportive, and I've been having so much fun with this. Thank you so much. You are all my best friends now :):):):):)
If you're new, check out all of my old newsletters here. A reminder that every newsletter gets saved+posted as a blog-post-type-thing if you ever need to go back and find something.
Speaking of being new here…
Last week Four Pins retweeted my tweet which caused an influx of new subscribers (lmaooooo). If you're here because of that, hahahahaha hi. Thanks for subbing!
---
I miss being sweat on.
Been thinking a lot about how much I miss live music and about how much it sucks for artists who can't tour right now. Buying merch is a great way to support artists, and I've rounded up a few tees that I think you might like. Oh, also there is another Bandcamp Fridays coming up in two weeks!
Hyper-local memes.
---
Feature of the Week: Tired Thrift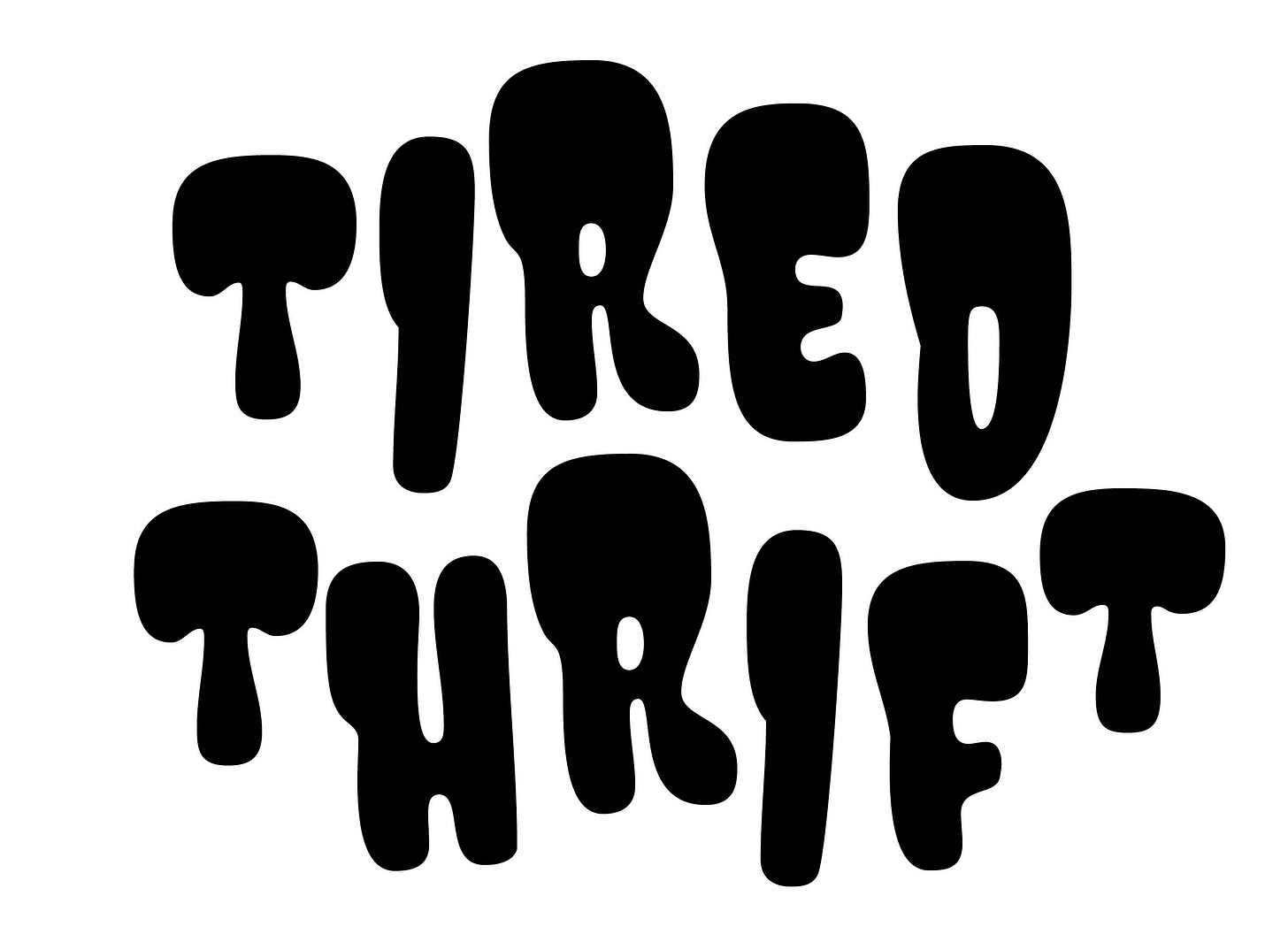 Tired Thrift is a NYC-based duo curating vintage clothing and accessories at an affordable price.
"Tired Thrift makes sustainable shopping easy for vintage lovers, fashion savvy youngsters, and environmentalists alike."
What is Tired Thrift and why did you start it?
"Tired Thrift is a collection of curated vintage clothing that sources authentic pieces from the decades that today's trends are inspired from. We are looking to expand what Tired Thrift means to more than just clothes. Tired Thrift will be a place of community for creative, like-minded youngsters. Our love for thrifting has been around since middle school, before it was ever "cool." I remember in our sophomore year of college, Elona and I skipped a day of classes to go thrifting.
What started out as a joint Instagram page that featured funny photos with quirky captions transformed into Tired Thrift after a day of thrifting outside of the city. We were in a massive Goodwill and found amazing items we could never find thrifting in the city. We would style celebrities in our heads, picking outfits that we could see Zendaya or Bella Hadid wearing, and throw them in our carts. We realized we had two carts worth of clothing and came to a mutual agreement that we needed to open a shop. It was the best decision we could've ever made. Not only did Elona and I create a way for us to justify our shopping addictions, but also create purposes for ourselves, which we were in desperate need to find."
What are you thinking about or looking for when thrifting new pieces?
"When thrifting new pieces for Tired Thrift, the first thing we ask ourselves is: "Would we wear that?" Since Tired Thrift is a reflection of our own styles, we are very picky about the items we choose to sell. We are also big on storytelling. When we choose an item, it must be able to tell a story. For example, if we were to find a soft, sunflower yellow sweater vest, we would say that someone named Daisy would wear this with a white t-shirt underneath to go to her weekly painting class in Dumbo. We contextualize every piece we buy and sell. Besides style, we make sure that every piece is in good condition."
Tell me more about yourselves, the founders!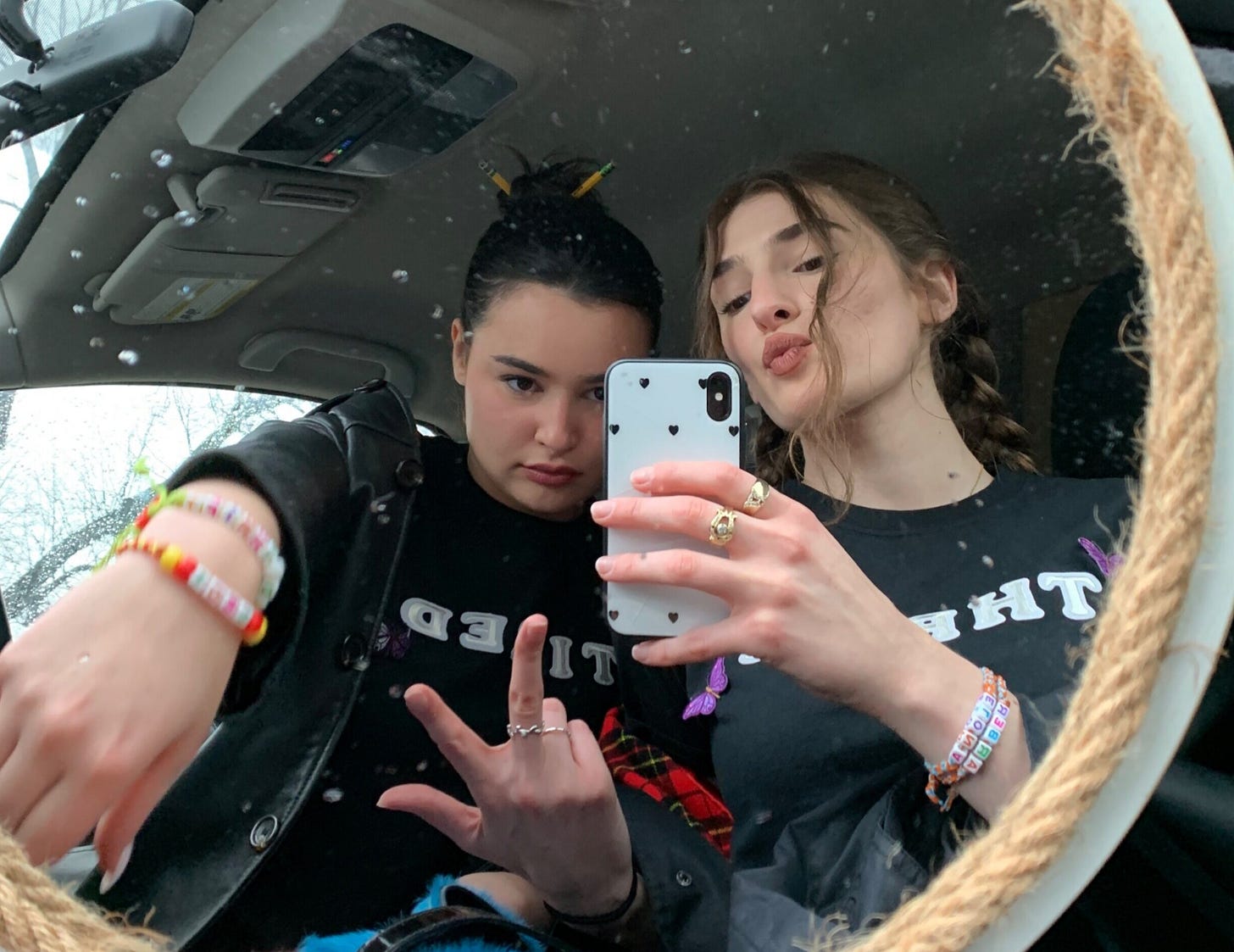 "Hey! I am Lediona, but mostly everyone calls me Ledi. I'm a senior at Stony Brook University and cannot wait to graduate. I am a huge music lover and will bust out a move if the right song comes on.
Hiya y'all! I'm Elona. I'm currently a senior at Zoom University AKA Baruch College. I study Marketing and minor in Graphic Communication. I'm a sweater vest connoisseur and cannot wait to go pumpkin picking this Fall.
OH! And we obviously share a passion for fashion and thrifting."
What is influencing Tired Thrift's style right now, whether it's people, movements, time periods, etc.?
"Being that Fall is around the corner, we are excited to look for lots of sweaters and blazers. As for style, we are heavily influenced by the OG 90s women in our lives, like our mothers and aunts. We refer back to old photos of them and take inspiration from their styling choices."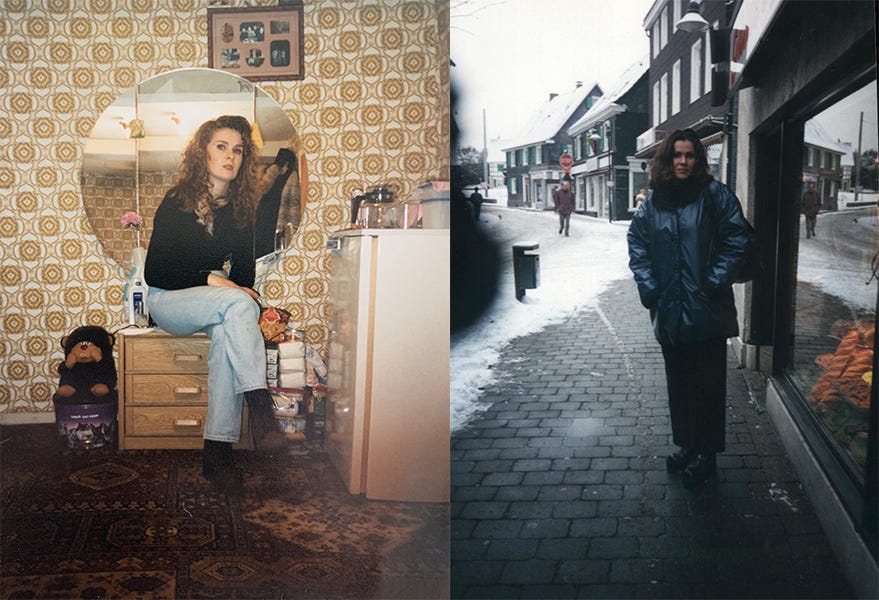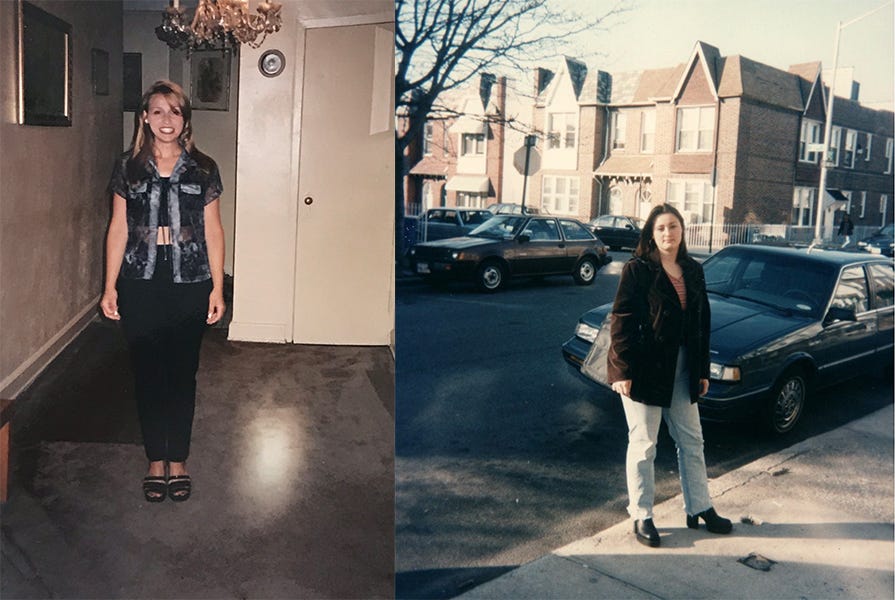 What is something interesting happening in fashion right now?
"Everyone who participates in fashion is being more environmentally and socially aware. Although the fashion industry seems perfect, its corruption runs deep. This revolution toward building a fashion industry that is ethical in terms of environment and society is incredible. Because of this, we have and are continuously reevaluating our business, making sure we are doing it correctly for the greater good."
Any hopes, wishes, or dreams for Tired Thrift? :)
"Our biggest wish for Tired is to own a permanent storefront to create an inclusive space for our clothing and friends. Another dream for Tired Thrift is style celebrities, like Dua Lipa. We want to be a go-to shop for celebrities and NYC locals alike!"
Follow Tired Thrift @tiredthrift on Instagram for updates on their latest drops and pop-ups and shop their curated vintage goods at www.tiredthrift.com.
---
Cold-ish weather, time to blast this and cry.
---
Open your purse!
In reference to this cultural phenom. Every month I'm going to pick an organization for us to donate to together. Venmo me at @elisebang (email me if you prefer a different method) and at the end of every month, I'll match up to $50.
This month I'm choosing Brave Space Alliance. They're the first Black-led, Trans-led LGBTQ Center working on the South Side of Chicago. Right now, they're the only LGBTQIA+ -ran food pantry in the Midwest! If you're local to Chicago, they're always taking supply donations, and they do a great job of creating culturally affirming donation lists. Learn more about Brave Space Alliance here.
Let's see how much we can raise by the end of September!
THANK YOU TO THOSE WHO HAVE ALREADY DONATED! Let's keep it up!❤️
---
Business not as usual.
The rise and fall of Pret a Manger Wired UK
Pret's business model works really well when we're all commuting to work…oh wait. This quote makes no sense if you don't read the article, but is really funny when you isolate it:
""If you go back five years and want to find out how many bananas were sold on this day, in this window of time, you can find that out," one former employee says."
How Cameo Blew Up During Quarantine The New Yorker
Cameo's business went up a thousand percent from the beginning of quar to May. This is written by Naomi Fry who also has an amazing Twitter presence.
"On Instagram and Twitter, our notion of "celebrity influence" hovers fuzzily, eliding the monetary and emphasizing the social. Cameo strips away the illusion."
How Michaela Coel Wrote I May Destroy You's Dreamlike EndingVulture
I finally finished I May Destroy You (HBO), and when I tell you I SCREAMED!!! Seriously, could not recommend this show enough. It's incredible. This article has spoilers.
"Maybe it's not about letting it go; it's just allowing your trauma to sit there. It's scary to let go of. It's very hard to convince anybody to jump off a cliff, isn't it?
Buying Myself Back: When does a model own her own image? The Cut
A personal essay by uber famous model Emily Ratajkowski about image, power, and consent. We can't not talk about this! I received a hot take on this from Haley Nahman (former writer/editor at Man Repeller) in my inbox this morning. The comments section is even spicier. If anyone else has read both the original and Haley's take, I would love to talk about it with you!
---
Et cetera.
---
Same time next week?
Thanks for reading! Here is a hint for next week's guest: 🐯🌸🏖🐰 What else do you want to see going forward? Shoot me an email at eliseabang@gmail.com, Tweet me, slide into my Instagram DMs ;)
Weeeeee talk to you next week! (ノ◕ヮ◕)ノ*:・゚✧